About the Game:
Tired of playing word search puzzles? Try a brand new number search puzzle game.
Greetings and welcome to the number puzzle game. Try this number puzzle game instead of the word puzzle game to see if you're also good at finding numbers.
Finding the given number in any direction is the only thing you need to do to complete a level. That was simple, wasn't it? It's easy after all, so give it a try once 🙂 There are a lot of things in this puzzle game, and it is completely different from word puzzle games. A number puzzle is more challenging than a word game. We have also created 5 different difficulty levels for our players to choose from, each with a different level and gameplay. We offer unlimited levels so you'll never get bored. Try to reach 1000 levels across all difficulty levels.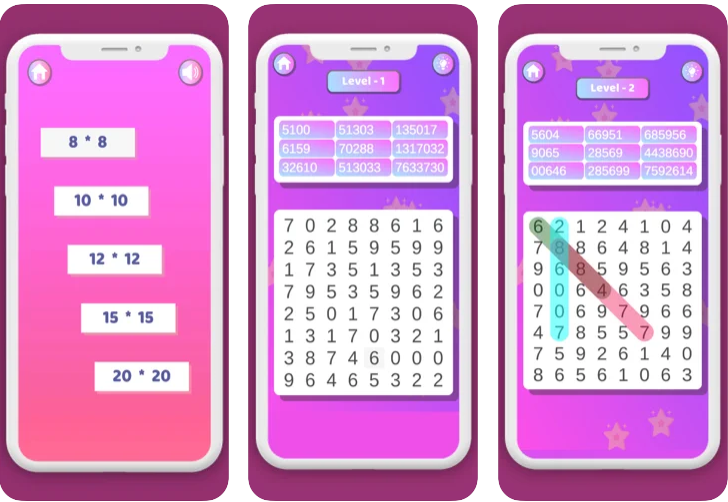 FEATURES:
100% free to download. No in-app purchases
Share with your friends and ask them for challenge to play and beat your score.
Unlimited levels to play with no limitations.
Challenging levels each time you play and get harder as you go.
Free hint system to help you when stuck.
Relaxing music.
Simple UI Design for all ages.
5 difficulty levels – select the level as you fit best and based on the time you have to play this best puzzle game.
Different colouring game draw system. Each found word will get highlighted with a different colour.
WE LOVE YOUR FEEDBACK:
In return we just need reviews from our users so we can improve gameplay based on that so please write us some feedback whatever you think so we can follow the same.
Thanks for being part of our game.