About the Application:
There are more than 10000 unique facts about life in this app. You'll find even more facts and life hack quotes on our site as we constantly verify and upload them. With this app, you can express your feelings with all the new Facts and Lifehack quotes in English that you can send to your friends & family members.

You can find the facts about life and life hack quotes in this app.
The application contains tons of life fact tips in different categories such as human body, everyday life, language and words, love and attraction, animals, people, entertainment, world news, internet and the computer, food and drinks, history, celebrity, phobia, science, sports, funny, inventions, superstition, money, random, weird, holiday.

The application contains tons of life hack tips in different categories such as brainy, life tips, technology tricks, health and fitness, extras, survival, money savers, food and drink, daily life solutions, relationship, party hack, parenting, study boosters.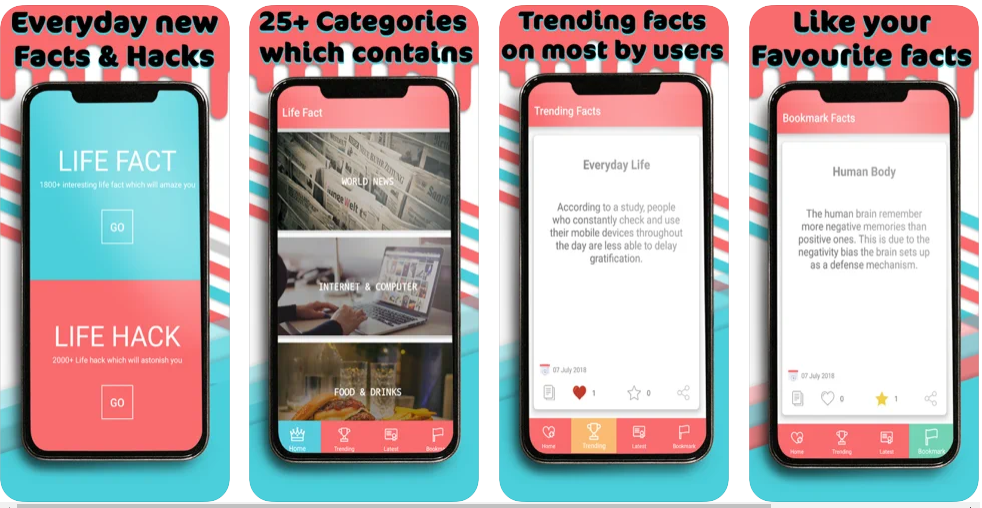 FEATURES:
Daily new fact as a Notification.
Select and add facts to your 'favorites' and you can read them later
You can copy and download the facts.
Share random facts on Social media apps
You can give the rate to the fact.
Swipe upside and get the latest fact about life.
There are many wonderful lessons in life, but not all of them come with a shiny bow. We can gain wisdom from tragedy sometimes. Joy sometimes does that. Sometimes we learn life-changing lessons when we least expect them.
The Daily Random Facts group all the amazing life facts into different categories, and each category has a large number of unique and interesting facts. Using all the categories in our app, you can learn facts easily and get unique information about amazing and interesting facts.

You can share these Lessons in life Quotes on social media. We hope you enjoy your new Lessons in life hack and life fact application.