About the Application:
Thousands of true and amazing facts at your fingertips!
Are you searching for amazing facts? Knowledgeable facts? Or just interesting facts about everything? Then you are in right place.
Knowledge is the most important thing in the current fast and progressive world. If you have enough knowledge then you can conquer the world. With Just Facts – General Knowledge app you will get all the unique and amazing information that will surprise you.
The app has a huge collection of all types of facts. General knowledge can be defined as culturally valued knowledge about any particular topic relating to the social interest of society, culture, civilization, community or a country, which may be communicated by a range of some non-specialist media.
From students to professionals to business owners to homemakers to retirees, this applies to virtually everyone in all walks of life.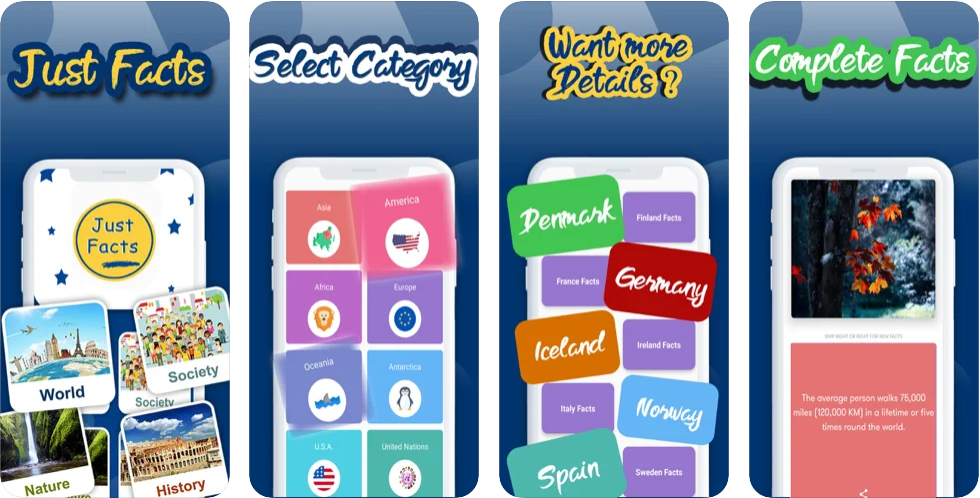 FEATURES:
Thousands of Facts which you didn't know
100% free application
NO ADS
Easy navigation
Beautiful user-friendly interface
High performance and less memory consumption app
You can share your favorite fact Picture on Facebook, Twitter, Whatsapp, Google+, Hangout, Quora, Pinterest, LinkedIn and many more social platforms
OTHER KEY THINGS:
The Just Facts – General Knowledge App is a quick and exciting way to expand your knowledge about important issues and to share this knowledge with others. It is a powerful tool to improve lives by equipping people with information to make truly informed decisions.
Main Categories Includes:
World Facts
Society Facts
Nature Facts
History Facts
GK
Knowledge
Worldwide knowledge
Fun facts
Science facts
Did you know Facts?
Unbelievable Facts
Fact factory
Amazing Facts
Cool facts
Amazing Facts
World Fact
Interesting Facts
Just Facts
Daily Facts
Amazing Facts
In this there are tons of other sub categories as below:
★ World Facts :


Asia Facts
2. America Facts
3. Africa Facts
4. Europe Facts
5. Oceania Facts
6. Antarctica Facts
7. U.S.A. Facts
8. United Nations Facts
9. Cities Facts
10. Places Facts
★ Society Facts:

1. Social Issues Facts
2. Life & Love Facts
3. Tech & Invention Facts
4. Humor & Offbeat Facts
5. Religion Facts
6. Books & Language Facts
7. Movies & TV Facts
8. Art & Music Facts
9. Food & Drink Facts
10. Business & Economy Facts
11. Sports & Games Facts
12. Science Facts
★Nature Facts:

1. Animals & other life forms Facts
2. Body & Health Facts
3. Space Facts
4. Global Issues Facts
5. Phenomena Facts
6. Plants & Minerals Facts
★History Facts:

1. Historic Events Facts
2. People & Civilizations Facts
WE LOVE YOUR FEEDBACK
As always, we appreciate your feedback. Please keep sharing your experience in our email.
Enjoying the app and want more features? Please show us some love by giving reviews, so we can keep updating with great new features!