About the Game:
Surely, this game will bring back good memories of childhood. When everyone is used to playing in the newspaper or in a comic book. Comparing the given Image to another Jigsaw can be challenging. Hence, we developed the same concept so that you can play anytime on your Smartphone.
Find the difference games aren't like this; it's all hand-drawn images and all will be hand-drawn, not computer-generated. The game consists of only black and white images, so no colouring pictures or colour puzzles will be included.
If you are familiar with the Find the Differences challenging games, then put your skills to work in finding the differences. Every step must be taken carefully. This is one of those detective games in which you exercise your brain and see how fast you are at finding the differences.
Play this concentration game every day with the brand new game! It's the best game for kids and adults! Spot it the difference is a fun, addicting game for the whole family! Playing search games regularly may improve your concentration and focus. Compare pictures and pay attention to details. Don't you think it's time to get started? Now go search!
This is a simple picture game that you did not know it provides so many mental benefits. So what do you think to give a try and test and improve the level of your attention?
Find the difference: Also knows as Find differences, Hidden object puzzle, find an object, What's the difference, Finding game, Difference game, Spot the difference or Find the differences where all you need to do is find the difference between 2 pictures. And yes If you enjoy playing games like Hidden Objects this puzzle game is perfect for you for sure.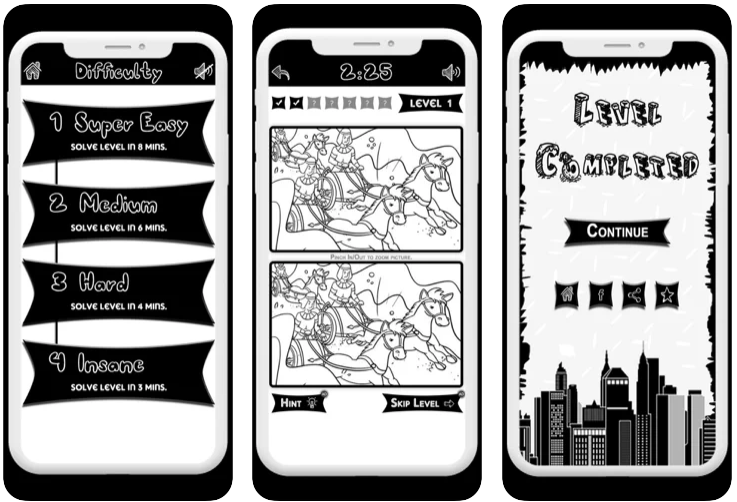 FEATURES:
100% free to download. No in-app purchases
Share with your friends and ask them for challenge to play and beat your score.
2000+ levels to play with no limitations.
4 Difficulty Modes
Each level has 7 differences to find
Completely offline with all levels included with no extra download
All hand-drawn puzzles
Zoom pictures easily with a simple pinch.
Difference game made for adults and children.
Super relaxing gameplay with no timer.
Challenging levels each time you play and get harder as you go.
Free hint system to help you when stuck.
Relaxing music.
Simple UI Design for all ages.
WE LOVE YOUR FEEDBACK:
In return we just need reviews from our users so we can improve gameplay based on that so please write us some feedback whatever you think so we can follow the same.
Thanks for being part of our game.